Profit and Loss
The gross profit and loss of an order depends on the volume (order size) and also change of price movement.
ProfitLoss = (ClosePrice – OpenPrice) × Volume × ContractSize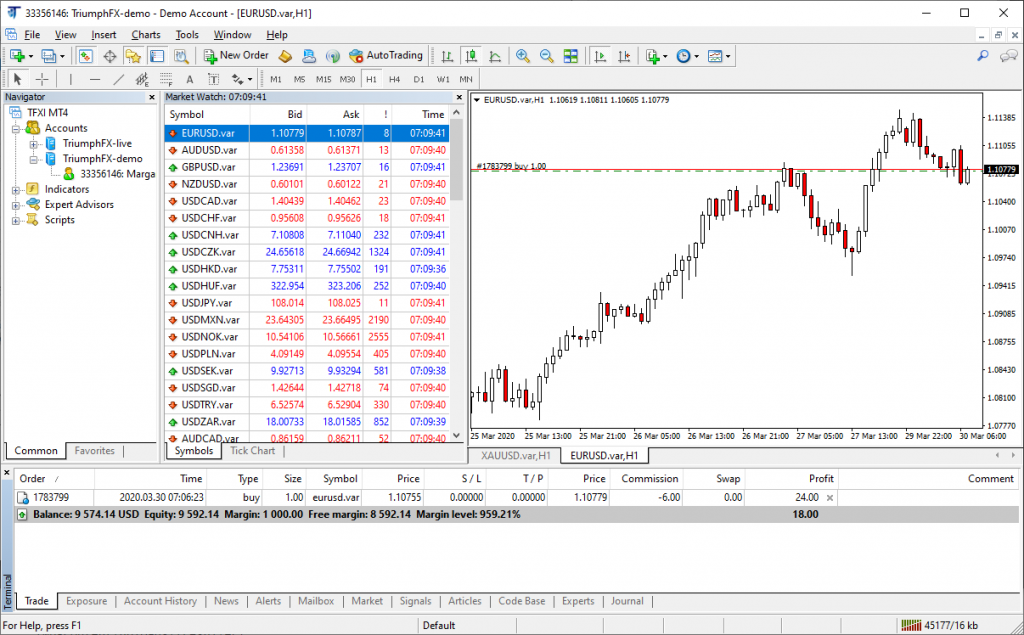 For instance, if you have an open buy position at 1.11226 and close at 1.11255, the gross profit of your order is calculated as followed:-
ProfitLoss = (1.10779 – 1.10755) × 1.00 × 100,000 = 24 USD
Please note that profit column is displayed in gross, you would have to consider other applicable charges as part of trading cost too i.e. execution commission and swap as well.
Please also note that the contract size of gold is 100 oz and silver is 5,000 oz.
Attention: TriumphFX may be offering CFD indices and CFD shares in different contract size compared to another broker you are/were trading with. Always check the symbol specification before placing an order!
Symbols with different quote currency
When the symbol labeled as EurUsd, EUR represents base currency and USD represents the quote currency.
TriumphFX generally offer only USD trade accounts.
When the symbol's quote currency is not USD e.g. UsdJpy, conversion will automatically be performed by MetaTrader 4 to calculate and convert your profit and loss, commission charges and swap back to USD.
Here's another example with different quote currency:
Here's other cross-pair examples with different quote currency:-
Symbols with different contract size
Unlike forex, spot metals have different contract size e.g.:
Spot Gold, XAUUSD = 100 troy ounce
Spot Silver, XAGUSD = 5,000 troy ounce
Indices
Indices may comes with different quote currency and different contract size. It is always at trader's best interests to check for the contract specifications from the MetaTrader 4 Client Terminal before placing an order.
Other reading
Hits: 498