EUR/USD
EUR/USD is trading in the consolidation a bit lower its level of resistance 1.0793 – 1.0816 now. This level remains our cornerstone in trading this instrument and of course, long positions are still in priority, because a little correction of the price was without volume.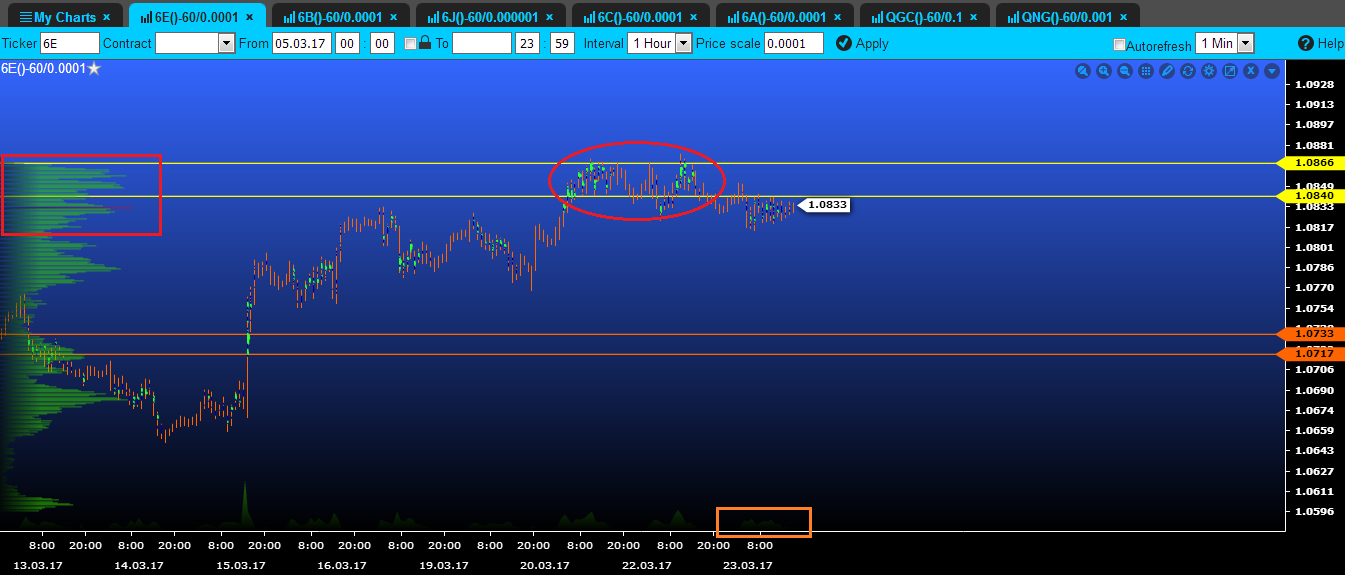 Our previous scenario is relevant: long positions should be opened only after a breakout of the resistance level with further fixation of the above it. This move must be on increased volume, which will make this signal more accurate. Stop loss should be placed at the level 1.0767 (a local minimum). Potential of the deal is around 100 pips.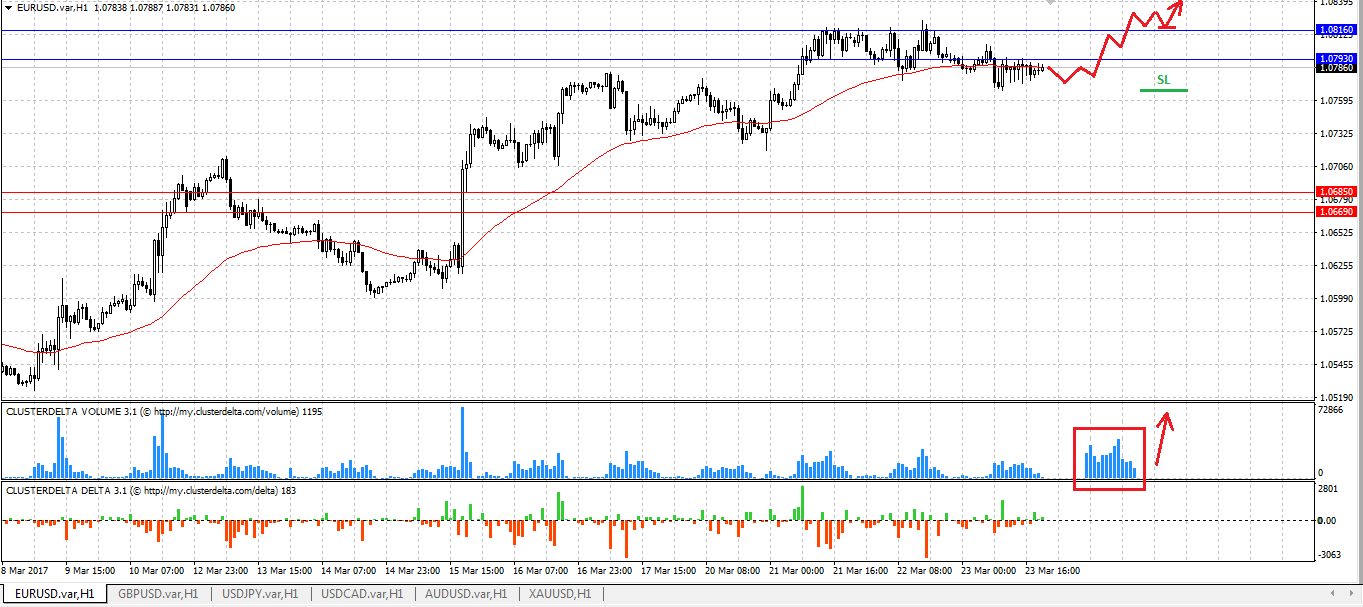 GBP/USD
GBP/USD uptrend continues fueled by excellent data on retail sales in the UK, which grew by 1.4%. It is also worth highlighting the support level 1.2430 – 1.2453, in which large volume is concentrated. It is also important to note that after its formation, the price rebounded upwards on high volume.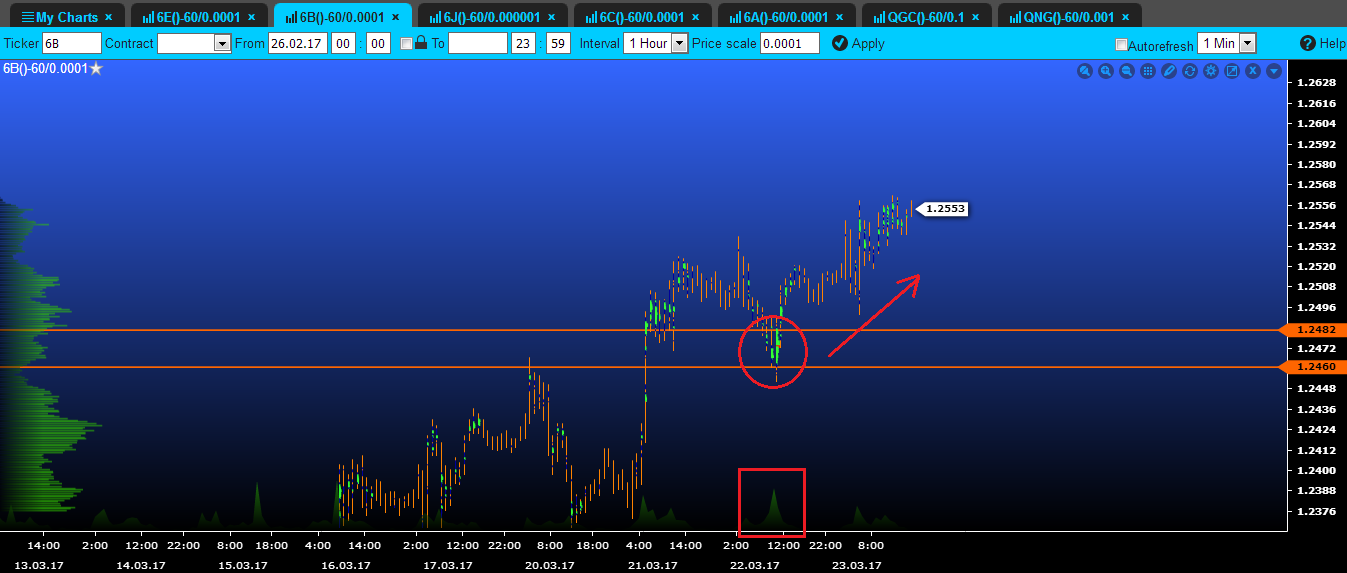 As can be seen from the volumetric chart, most of the volume accumulation is at the bottom of the chart, and the price continues to move upwards on quote high volume, these facts only increase the probability of further growth of GBP/USD.
Unfortunately, it's unprofitable to buy from a current level, since the price has already gone far enough from the support level, so a risk/profit ratio will not meet our trading criteria.
Long positions can be opened only in the case of a smooth correction of the price, approximately, to the level of 1.2490. Correction should be on small volume, this is very important! Stop loss must be placed below the support level of 1.2430. The potential of the deal is 100-120 points.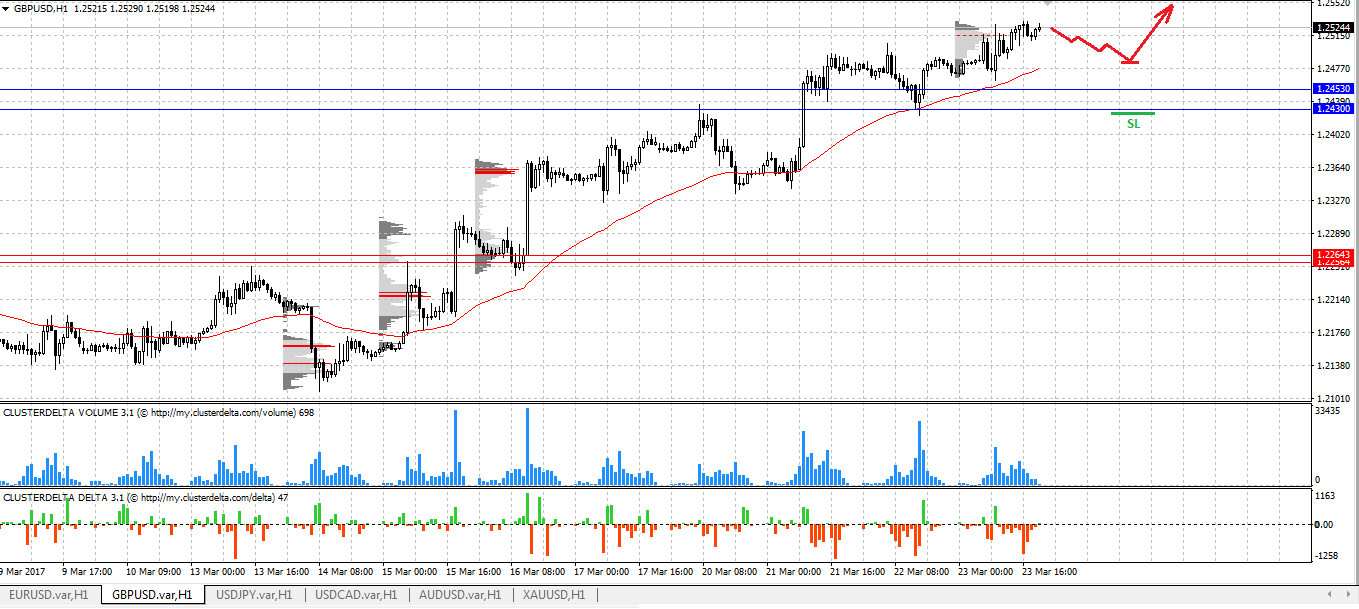 USD/JPY
We need to highlight a new level of resistance 110.75, that contains huge volume inside it and stopped the fall of the price two times. This level can be used in trading USD/JPY. So, its breakdown on increased volume will be a good signal for opening short positions. Stop loss should be set above the level 111.32. Potential of the deal is about 110-120 pips.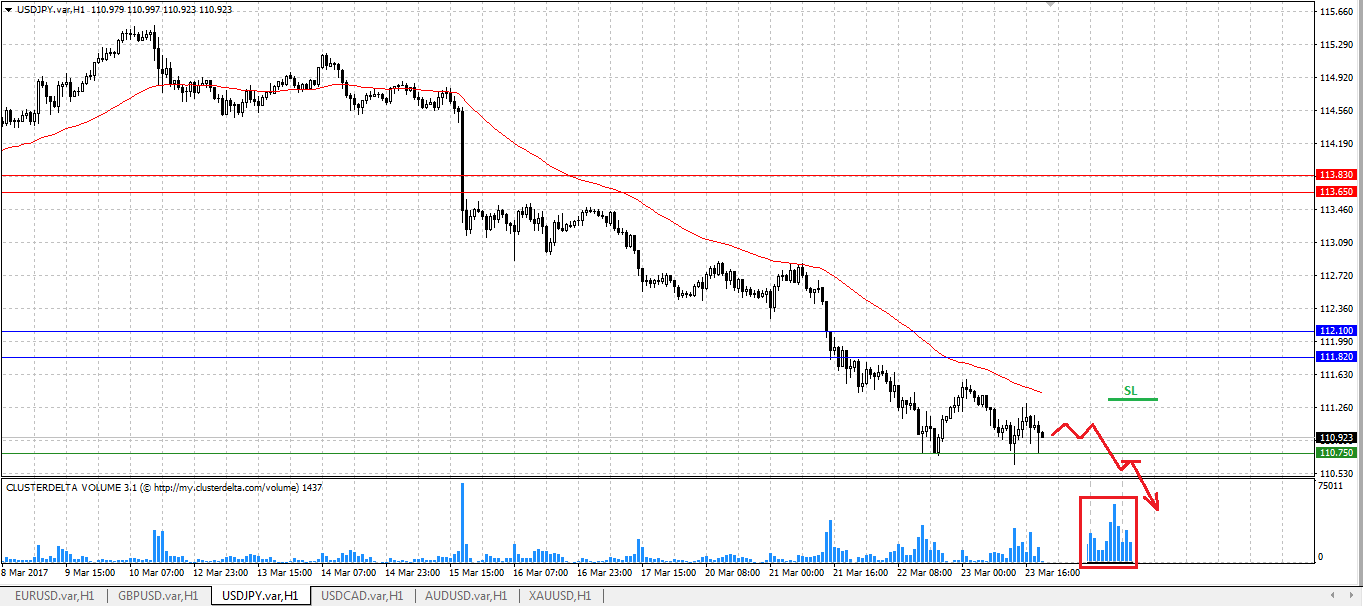 USD/CAD
USD/CAD continues trading inside the consolidation, so our previous scenario is still actual: we can open deals only after the breakout of boundaries of the range. Before it, better to stay out of the market. Boundaries of the consolidation are the support level 1.3275 – 1.3284 and the resistance level 1.3358 – 1.3384. Overall, it is not the best pair for trading now, so it's better to skip it from a trading plan.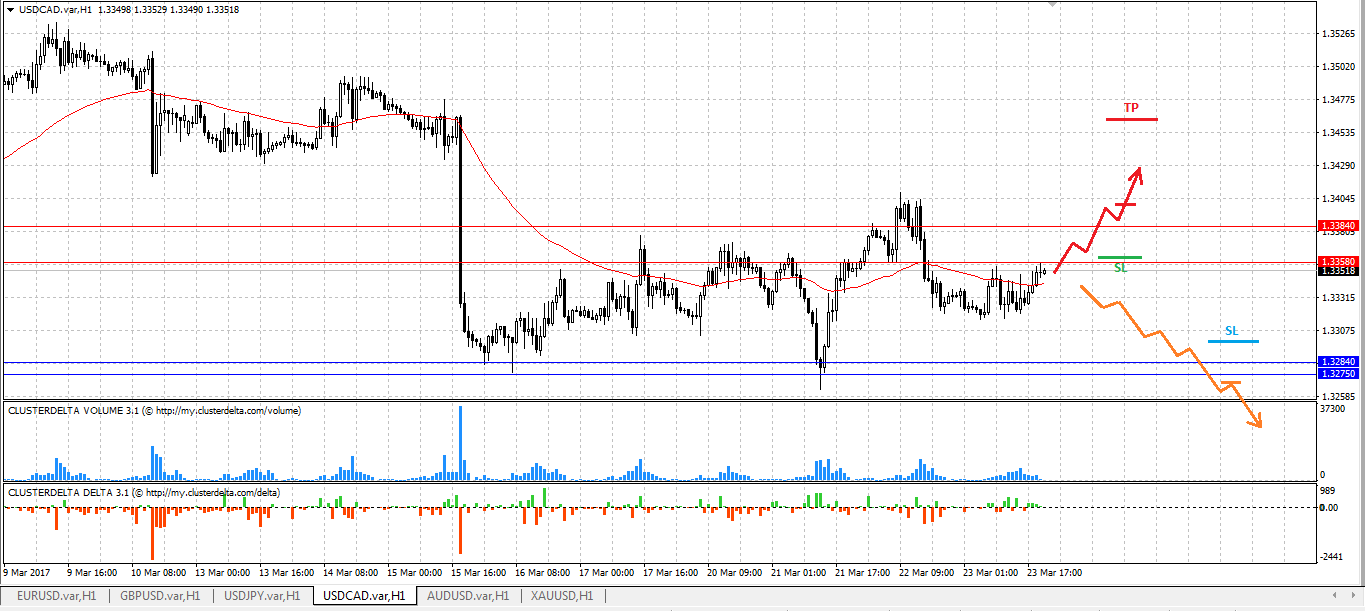 AUD/USD
AUD/USD is testing its support zone 0.7625 – 0.7663 now and seems like it will be broken down. It is necessary that this movement will be on increased volume to avoid a possible fake breakout.
In such case short positions can be opened with a stop loss above the level 0.7663. The target is 0.7520.
But still, this deal is very risky, because we trade against an uptrend, so it should be opened only if all other instruments have worse situations.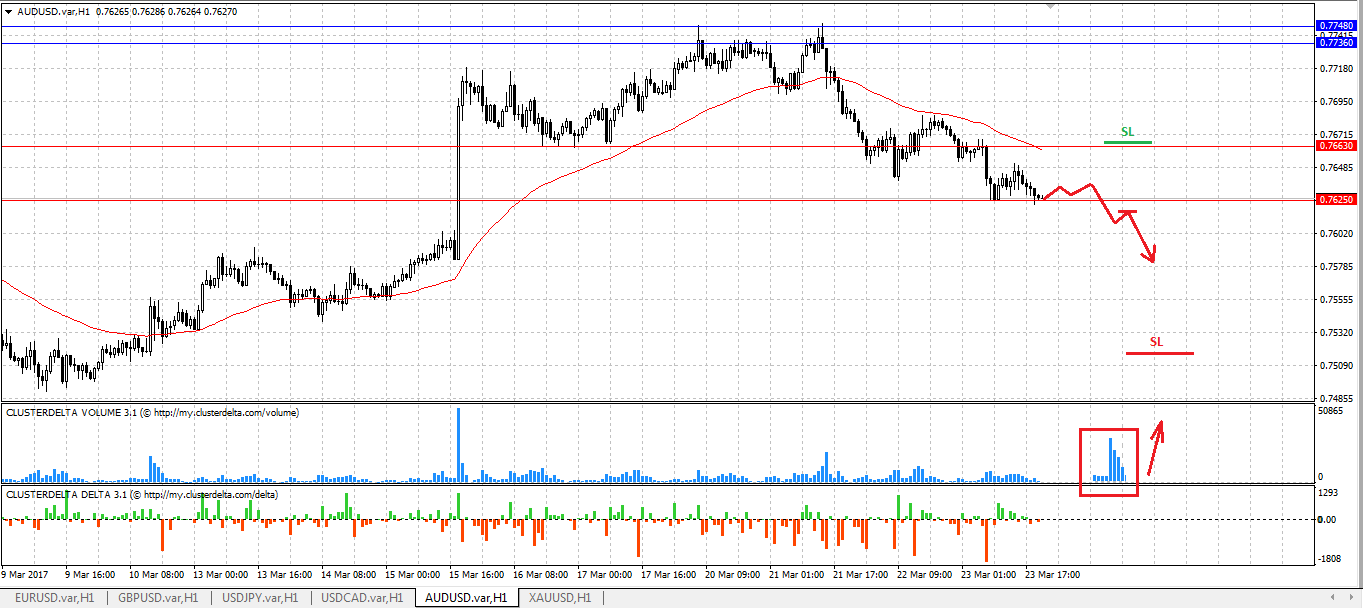 XAU/USD
Gold showed a correction to its level of support 1239.60 – 1242.60. We must note that this move was on medium volume. It does not reject our previous scenario for opening long positions, but we need to be more careful.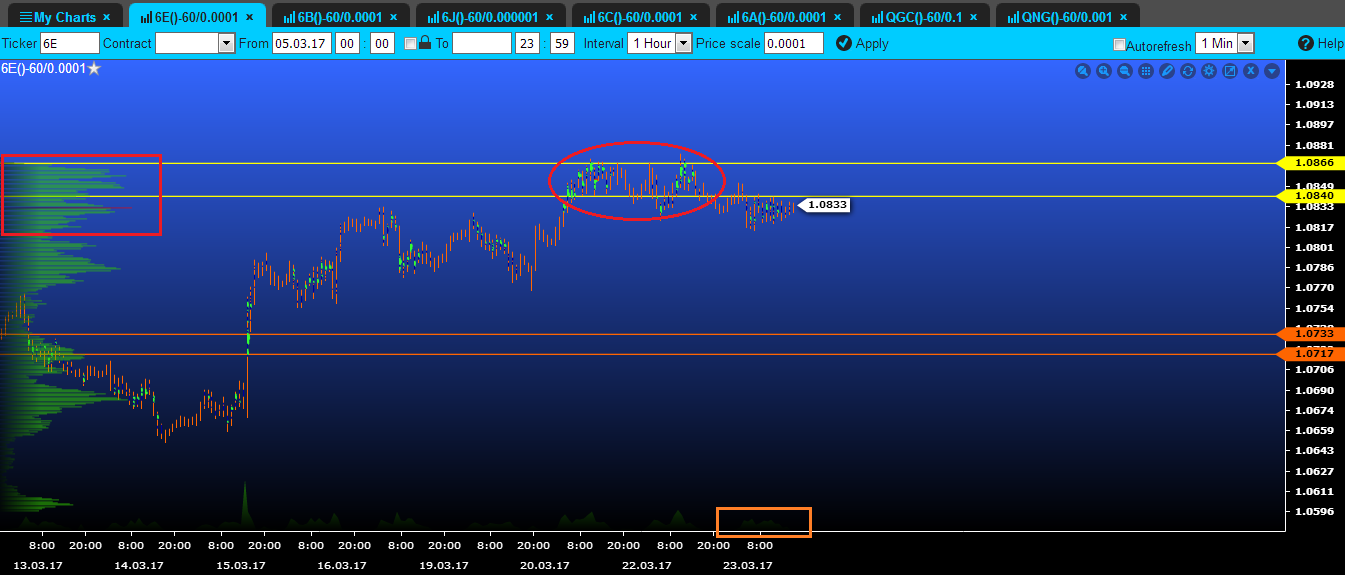 As can be seen from the chart, there is quite huge accumulation of volume at the top of the chart, so we need to wait for additional signal before we open purchases. This sign will be a strong bullish momentum from the level of support. This movement must be on high volume, it will show us that buyers are still have enough power to push the price higher. Stop loss should be placed below the support level.
Also, when the price reaches the local high, it's better to move a stop loss to the breakeven and then just to hold the position.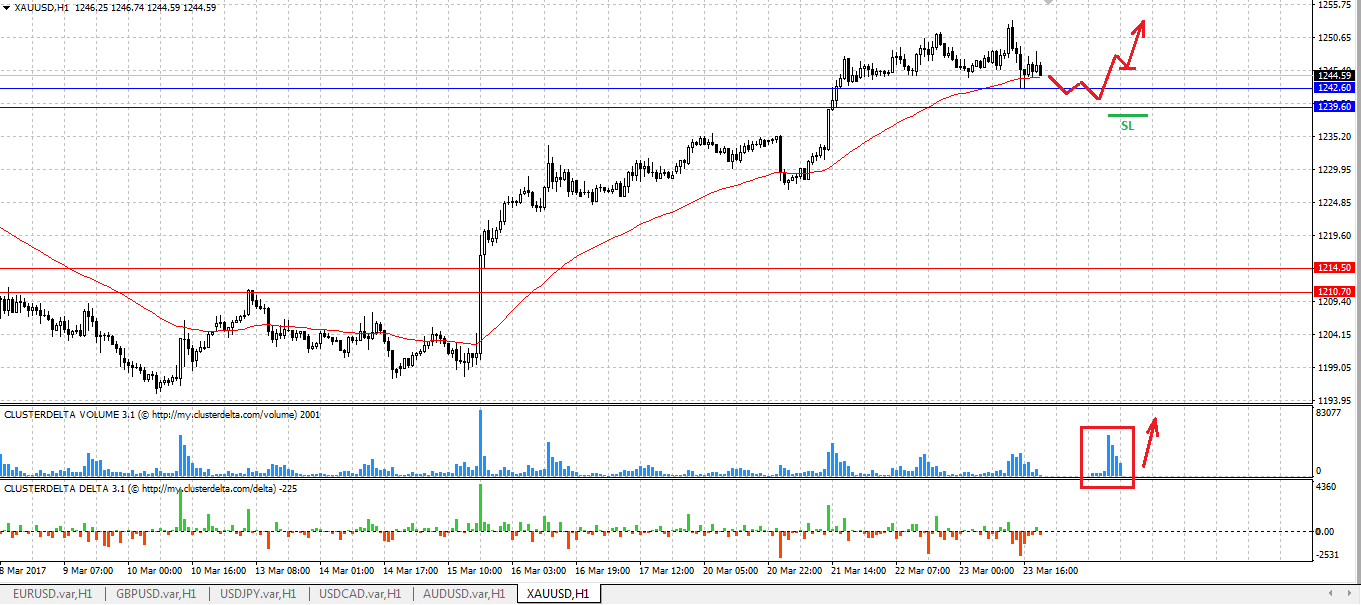 Sentiment: the mood of the market is unchanged from yesterday, so all our scenarios are confirmed. Only USD/CAD and AUD/USD should be watched for further changes, because the situation for these pairs is pretty indefinitely.

The bottom line: EUR/USD and GBP/USD are the best deals now. Gold is also interesting, but we need to wait for additional signal.
Hits: 0